What is the difference between the best CNC machine manufactured by the cabinet and the ordinary CNC router?
1. Loading and unloading: there is no loading and unloading platform for ordinary CNC router, which can save the operator time.
2. Processing speed: Ordinary numerical control router does not need large range cutting, while ATC numerical control requires large range cutting. The typical woodworking CNC machine tools are mainly used to make the shape of lace cutter, and the main starting machines are slot opening and punching machines. ATC cutting machine has the best function of overlapping parts of 3D CNC router machine tool and normal CNC engraving machine in cabinet manufacturing, mainly used for opening, punching, grooving, milling, engraving and other functions of panel furniture, while ordinary CNC router machine is mainly used for panel or 3D parts. It has the functions of relief, hollow carving, three-dimensional carving, etc. In addition, from the price point of view, it is much higher than the ATC CNC router, and the factors that affect the price are mainly reflected in the configuration and control.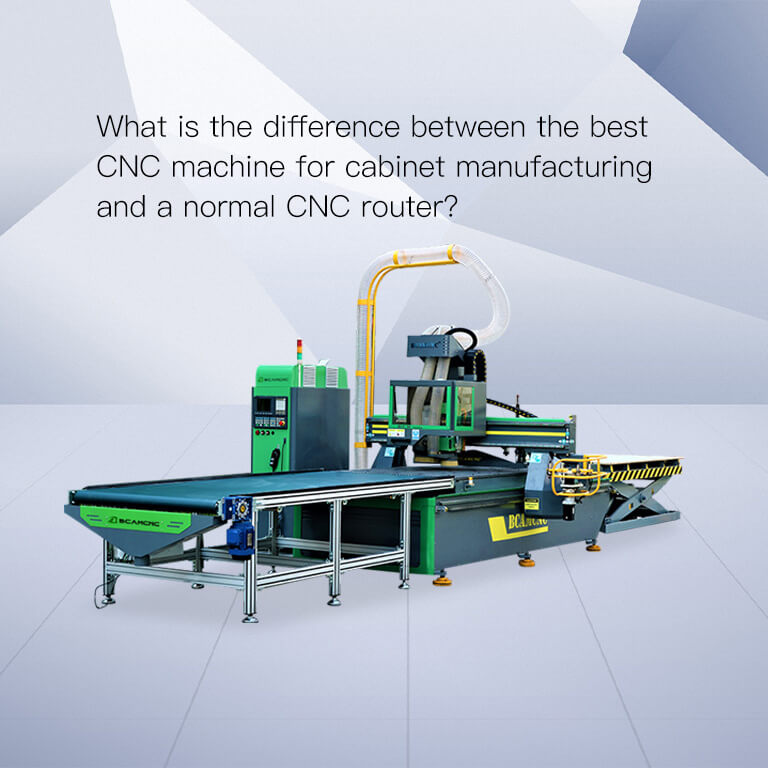 The best CNC machine tool for cabinet manufacturing function
★ This cabinet manufacturing machine ATC CNC router is equipped with automatic tool changing spindle, linear 8-type tool position. Automatic tool calibrators for easier milling, cutting, grooving and engraving operations.
★ The worktable structure is black PVC vacuum table, 6 working areas and 6 working areas, which are controlled by manual valve and Vortex 7.5 kW pump. Panels of different sizes are easier to fix firmly to ensure working accuracy.
★ Cabinet CNC router controllers of the machine are Syntec or LNC MW2200A, Mach4 and Syntec, which are easy to operate and can match many types of software (such as Type 3, Alphacam and Ucancam).
Application:
1. Wood industry: corrugated board, fine grain, antique furniture, wooden doors, screens, handicrafts, composite doors, cabinet doors, interior doors, sofa bridges, headboards, etc.
2. Advertising industry: advertising identification, acrylic engraving and cutting, crystal text production, shock wave molding and other advertising material derivatives.
3. DI Industry: copper, aluminum, iron and other metal parts, as well as artificial marble, sand, plastic plates, PVC pipes, wood and other non-metallic parts.
4. 3D carving