Congratulations to our company for successfully passing the ISO9001:2015 quality management system certification (CNC industry )
Recently, our company successfully passed the certification ISO 9001:2015 quality management system certification, and officially issued the ISO9001:2015 quality management system certificate on May 20, 2022. This marks that our company has stepped into a standardized, standardized and scientific modern enterprise management track.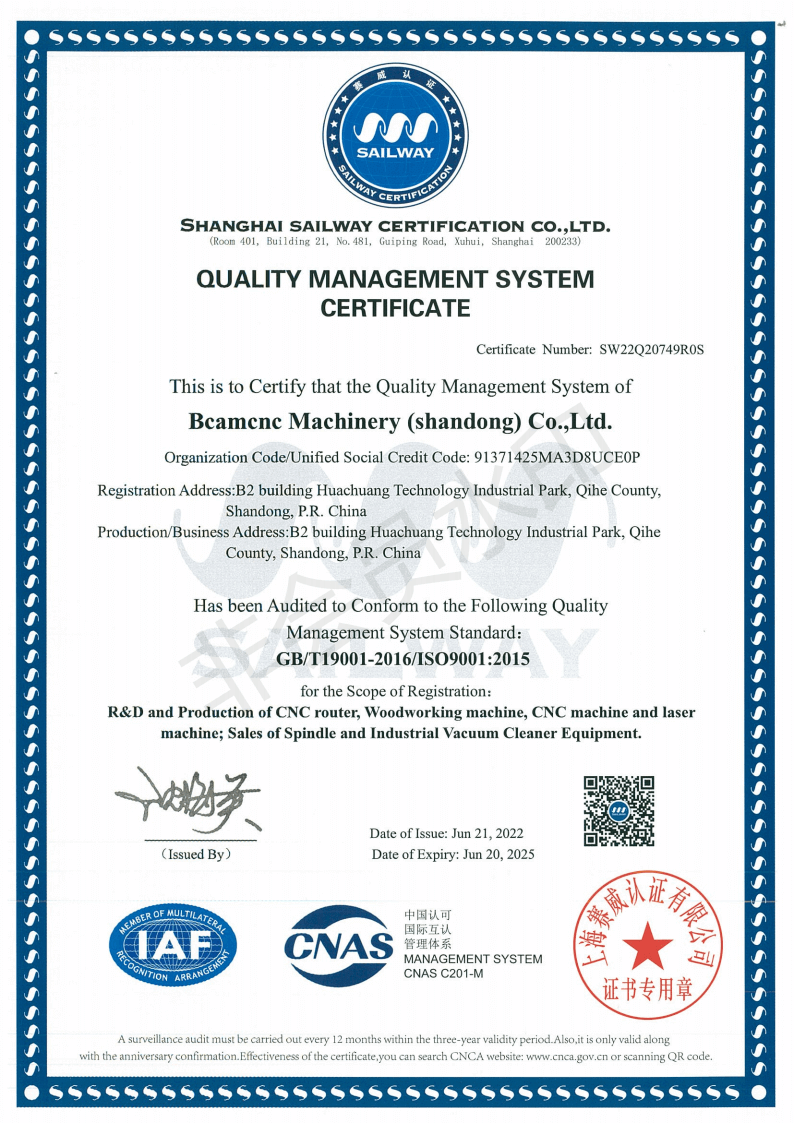 1 Scope
2 Normative references
3 Terms and Definitions
4 Organizational environment
4.1 Understanding the organization and its environment
4.2 Understanding the needs and expectations of interested parties
4.3 Determining the scope of the quality management system
4.4 Quality management system and its processes
5 Leadership
5.1 Leadership and Commitment
5.1.1 General
5.1.2 Customer focus
5.2 Policy
5.2.1 Develop a quality policy
5.2.2 Communication quality policy
5.3 Organizational roles, responsibilities and authorities
6 Planning
6.1 Measures to address risks and opportunities
6.2 Quality objectives and planning for their achievement
6.3 Planning of Changes
7 Support
7.1 Resources
7.1.1 General
7.1.2 Personnel
7.1.3 Infrastructure
7.1.4 Process operating environment
7.1.5 Monitoring and measurement resources
7.1.6 Knowledge of the organization
7.2 Ability
7.3 Awareness
7.4 Communication
7.5 Documented information
The successful passing of the ISO 9001:2015 quality management system certification is an affirmation of our company's existing management system and product quality, as well as a spur to the company's future growth and development. This is inseparable from our company's corporate culture of "focus, collaboration, sharing and innovation". Our company will continue to use this quality management system in the future work, continue to strengthen various basic management, actively explore, continuously strengthen the company's strength, improve the company's popularity and reputation, and strive to be customer-satisfying products and services, such as Finally, we will implement the quality policy of "pursuing excellence, customer satisfaction, collaborative innovation and continuous improvement", and take customer satisfaction as our purpose to build an influential leading enterprise in the CNC industry!